11 Jan

AWARDED | Top 10 Structural Engineering Services Provider 2023

The ever-changing safety regulations and construction permit processes make construction projects more time-consuming than necessary. This can be a tedious wait for commercial or homeowners looking to quickly occupy the premises. To streamline projects, reduce wait time, and deliver satisfactory outcomes, construction stakeholders need a reliable partner to aid in the construction process from start to end.

Enter Principe Company.

The firm assists residential, commercial, municipal, and industrial clients in fulfilling their projects through its multidisciplinary civil engineering services covering design and build, structural engineering, wastewater management, and site development.

Up-to-date design techniques, combined with knowledgeable and trustworthy engineers, enable Principe Company to make the most of a site's potential and help clients overcome any barriers in the engineering process. The extensive experience and knowledge of its engineers make the construction process practical and economical, facilitating great ROI for clients.

The expertise of Tom Principe, president and CEO of Principe Company, is an added differentiator. Thanks to his father's construction contractor role, Principe was exposed to the industry from a young age. After graduating, he started a firm and established three essential elements—engineering, regulatory, and client approval—as the foundation for reliable, responsive, and flexible client service.

This foundation helps Principe Company meet all the engineering protocols and industry standards, ensure compliance with the complex regulations imposed by towns and states, and most importantly, bring the client on board and approve their project proposal. Principe Company understands the intricacies of engineering machines and how a system will function in real space while working with site-specific circumstances. This attention to detail and practicality ensures its designs are always constructible within the field. Consequently, clients depend on Principe Company to achieve their desired outcome, maximize a site's potential, and overcome construction constraints.

"I have always prided myself on being honest and responsible, treating every project as if it were my own. Clients do not come to us as experts. We have to responsibly interpret what they want and deliver the outcomes they expect," says Principe.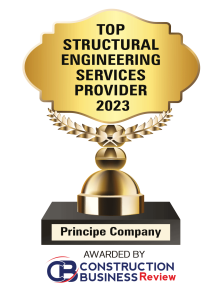 Principe Company recently assisted a client in developing a plot into their dream house. The project was on Block Island, and its development was subject to state regulations and environmental obstacles. This required attention to detail with the client, town, and state in the permitting and design process. Principe Company chauffeured the client through the construction phases to complete the project within a year. They now live in their ideal housing and are thankful to Principe Company for turning their vision into reality.
The results speak for themselves and showcase Principe Company's promise to deliver. A referral-only business for over 15 years, most of Principe Company's recurring client base has grown exponentially since its inception. Forward-thinking principles underlining its comprehensive construction services ensure continuous compliance with the latest construction regulations.
These capabilities poise Principe Company as a go-to firm for building dream projects from concept to reality.